With complex and high consideration products and services, customer journey maps are critical in determining how content and touch points can help B2B enterprises grow their customer base. Understanding the customer journey helps validate customer personas, improve the quality of content and messaging, and align teams on customers' critical moments.
Why Journey Maps?
Journey research is useful when trying to understand a new audience or improve your understanding of an existing one. You can choose to focus on a small aspect of the journey or the entire journey from pre-purchase to post-purchase needs. Undertaking journey research is an integral part of a website redesign or refresh, as it better informs the design decisions for how to layout and present information on your site. It may also reveal content gaps that could potentially be part of the website plan and helps validate the segmentation models that best align with your customer's journey.
"Journey mapping data can be gold for Demand Gen Marketers who are creating a strategy for the buyer journey"
Similarly, personas can help you understand who your customer and prospects are, their roles, goals and demographics, but an essential missing component is understanding how key messaging and content is used throughout their journey. In order to target the right messaging for your customer at the right time, we recommend augmenting personas with journey mapping.
At gotomedia, our journey maps are largely enterprise-focused which means there are multiple maps and several stakeholders involved in the process. On each stage of every customer journey, we focus on the objectives, the critical moments along the way, along with key messaging and content. Our output provides a comprehensive customer-centric map to guide marketing, product, or customer success strategies.
In this article, I share two techniques our team has used for research interviews, that are designed to build customer journey maps. The first is card sorting and the second is journey-based discussions. I'll then explain how we analyzed the data and presented it in report format for the client.
The Importance of Smart Recruiting
Like most user research, it starts with smart recruitment.
The number and nature of participants recruited depends on what you want to learn. One B2B tech client wanted to know more about a new audience, so recruitment skewed toward a particular kind of developer who uses their product, while not ignoring two other segments who are key users of their site.
At a minimum, we recommend recruiting 6-8 people per segment. In the case above, we interviewed 10 from the new audience segment and 3-4 each from the other segments where we had previous research to augment.
"Multiple segmentations will allow you to see how your audiences might interact during their journey and shed light on how you can best target your content for their specific needs and interactions."
Another B2B tech client segmented their customers into small, medium and large enterprise. However, after conducting buyer journey research, it was clear the segmentation needed to be reframed according to the particular purchasing context rather than size of the organization. The research findings gave them a different lens to view their customers and reframed their approach to segmentation.
Enterprise B2Bs typically have large decision groups so it is important to understand how they interplay. Strategically including different roles in your recruitment process, can increase the insights into the needs of each group and how information moves between each segment, particularly during the consideration phase.
Card Sorting as an Interview Technique
Card sorting is a UX design methodology for grouping information in a way that makes sense to the participant and can help inform the content priorities along their journey. Most recently, we've used OptimalSort as an online tool for card-sorting during interviews.
Using card sorting during an interview has some distinct advantages. First, it helps prompt participants to remember what content they use online, offline or onsite, resulting in capturing highly detailed information. Comparatively, in a typical discussion without prompts, participants are less likely to recall each type of content or resource, especially if their journey is long or complex.
The second benefit is identifying at what stage customers typically access information as part of their journey. Third, they can rank the importance of the content, so it helps inform design decisions based on the customer's priorities.

The challenge of card sorting in session is the pre-work needed. In order to do a 'live sort' of content, the key stages and a predefined list of content types and touch points should be created beforehand. This can be done with a smaller set of pre-interviews, or internal stakeholder, sales or marketing input. Another challenge is the time required to have each participant sort a large number of content items.
Over time, our team has built B2B domain knowledge and have a good sense of persona types and segments. We also have a fairly solid take on content and resources needed throughout journeys. This information is helpful to aid the preparation process.
When moderating an interview using card-sorting, it is best to first ask the participant to drag and drop the content items into the appropriate category, which is representing a stage in a journey. When completed, ask them to sort the items chronologically, with the most important at the top.
During this process, take the chance to ask them more about each step and how engaged they are in the process. Probe into how the content helps and where it might fall short. Invite the participant to add more categories or tell us what activities are missing.
This process can be time-consuming, so interviews of 90 minutes are recommended to ensure enough time to fully understand what the participant wanted from the content.
Journey-based Discussion Interviews
An alternative way to run your journey interviews is to create a spreadsheet or by using an online collaboration tool (such as Miro). You then screen share this document during the interview and fill out the responses live during the conversation.
Your working document should contain the major phases of the journey as well as the elements or considerations for the participant, such as collaboration members and the decision-making process.
The advantage of this method is the participant understands more clearly what you are trying to achieve and can move dynamically across the phases to help fill in the details.
Analysis of Data
There is a large amount of data that must be sorted and organized during analysis.
For some highly technical B2B clients, we supplement the information captured during the interview with information listed in job descriptions, LinkedIn profiles and from our pre-interview surveys.
The data from OptimalSort can be exported, however, the data still must be manually checked and sorted and color coded into spreadsheets in order to visualize any patterns.
We typically create multiple tables like the one below and sort the information according to different segmentation. This process allows us to see patterns that may emerge from the data, that in turn help us inform the journey map.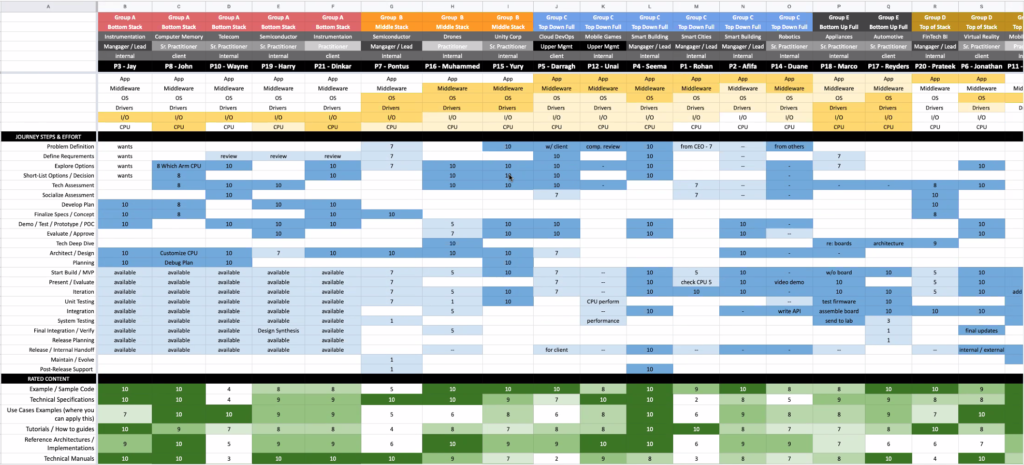 Visualizing the Data from Journey Map Research
After analyzing the data, our job is to put it into a format that is easily digestible by different teams across your enterprise.
We then create multiple journey maps, each representing the journey for the specific role or persona.
Within each journey, we represent the major touchpoints, critical moments, engagement levels, interactions with other personas, and types of appropriate content or resources. Where possible, the weighted importance of these elements are also included.
We typically prepare the journey maps as interactive files in either Powerpoint or Keynote. This interactive journey allows the user to click into more detail on an appropriate moment to access the relevant content and resources. By doing so, it reduces clutter and information overload from the high-level journey.
Additionally, the interactive format can be edited and updated based on further research.
By presenting information as an interactive journey map, it can be easily distributed to different teams who can view the content directly on their computer, rather than as large digital files that are hard to view or printed posters. It also gives team members the option to dive into particular parts of the customer journey directly related to their focus area.
It is worth noting that journeys are rarely a straight line, but rather an asynchronous journey model that represents the movement across teams and roles. To represent this, we often include a diagram showing the non-linear pathway a journey can take to illustrate the key points where a user may skip ahead or repeat parts of the journey.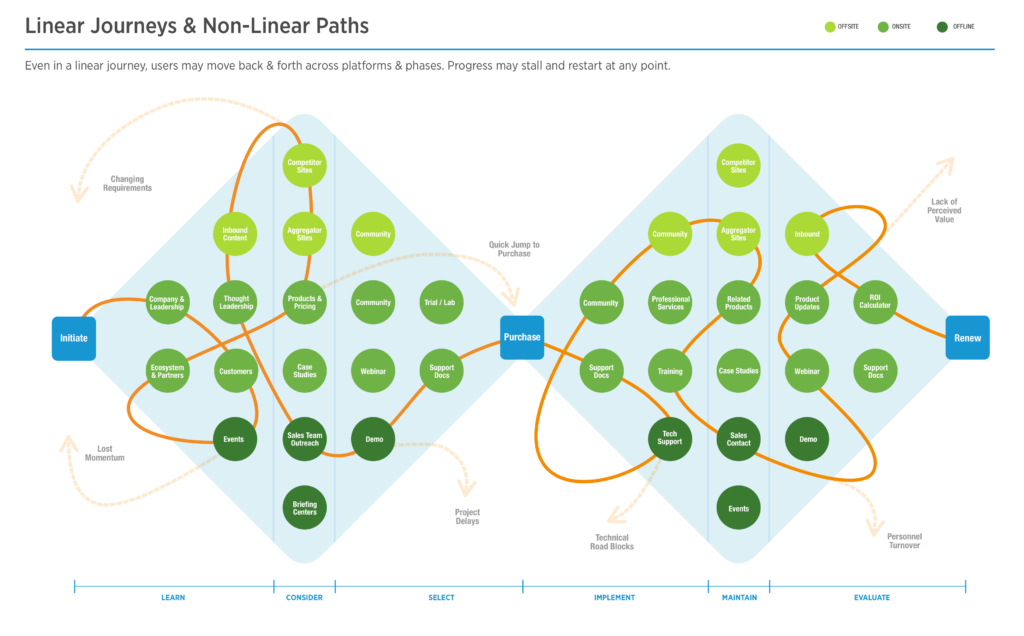 Reporting should include streamlined personas that focus on their role in the discovery, evaluation, consideration, implementation, use and renewal of the product or service.
It is useful to provide a content gap analysis diagram showing where highly valued content might be missing and/or if there are content surpluses that might overshadow a lack in others.
In closing, while the customer journey interviews can reveal what and when content is needed, it can sometimes lack specificity around the utility of the content currently available. If possible, allow participants to comment on the specific content and how it meets their needs.
---
For additional information on creation of interactive journey maps, see Sean Dolan's webinar hosted by Rosenfeld Media earlier this year.